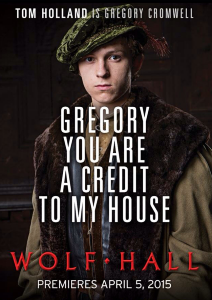 Character:
Gregory Cromwell
Created by:
Colin Callender
Directed by:
Peter Kosminsky
Written by:
Hilary Mantel, Peter Straughan
Produced by:
BBC
Other cast:
Mark Rylance, Damian Lewis, Claire Foy, Thomas Brodie-Sangster
Premiere date:
April, 5 2015
Episodes:
1x02, 1x04, 1x05, 1x06
Genre:
Drama, History
Synopsis
England in the 1520s is a heartbeat from disaster. If the King dies without a male heir, the country could be destroyed by civil war. Henry VIII wants to annul his marriage of twenty years and marry Anne Boleyn. The Pope and most of Europe oppose him. Into this impasse steps Thomas Cromwell: a wholly original man, a charmer, and a bully, both idealist and opportunist, astute in reading people, and implacable in his ambition. But Henry is volatile: one day tender, one day murderous. Cromwell helps him break the opposition, but what will be the price of his triumph?
Promotional Images
Tom's Character: Gregory Cromwell
Gregory was handed everything that his father Thomas Cromwell had to earn through labor, risk and grit. He is a student at Cambridge, but lacks his father's gifts. He wishes to emulate his father, or at least stand by his side like his father's ward Rafe, but whether he has what it takes remains to be seen.
"People in Cambridge are laughing at my greyhounds. They say only felons have dogs that you can't see at night. " – Gregory Cromwell
More Info
Wolf Hall is a British television serial first broadcast on BBC Two in January 2015. The six-part series is an adaptation of two of Hilary Mantel's novels, Wolf Hall and Bring Up the Bodies, a fictionalised biography documenting the rapid rise to power of Thomas Cromwell in the court of Henry VIII through to the death of Sir Thomas More, followed by Cromwell's success in freeing the king of his marriage to Anne Boleyn. Wolf Hall was first broadcast in April 2015 in the United States on PBS and in Australia on BBC First. The series was a critical success and received eight nominations at the 67th Primetime Emmy Awards and three nominations at the 73rd Golden Globe Awards, winning for Best Miniseries or Television Film.
Episode List
Episode 1: Three Card Trick
UK Air Date: 21 January 2015, US Air Date: April 5, 2015
In 1529, as Cardinal Wolsey receives news of his dismissal as Lord Chancellor, his lawyer, Thomas Cromwell, reminisces about how he and Wolsey met and the events leading up to the Cardinal's downfall.
Episode 2: Entirely Beloved
UK Air Date: 28 January 2015, US Air Date: April 12, 2015
As 1529 draws to a close, Cardinal Wolsey moves to York while Thomas Cromwell attempts to gain support for him from King Henry VIII and Anne Boleyn, and in the process, gradually wins favor for himself.
Episode 3: Anna Regina
UK Air Date: 4 February 2015, US Air Date: April 19, 2015
In 1531, King Henry VIII has proposed a bill which will make him the Head of the Church in England and allow him to marry Anne Boleyn. However, his plans are met with a series of complications.
Episode 4: The Devil's Spit
UK Air Date: 11 February 2015, US Air Date: April 26, 2015
In 1533, Anne Boleyn has given birth to a daughter, much to King Henry VIII's disdain. As Anne's paranoia over her inability to produce a son grows, Thomas Cromwell tries to convince Sir Thomas More to sanctify the royal marriage.
Episode 5: Crows
UK Air Date: 18 February 2015, US Air Date: May 3, 2015
In 1535, King Henry VIII's attempt to be declared Head of the Church in England has been denied by the Holy Roman Emperor. Meanwhile, Anne Boleyn's failure to produce a male heir leads Henry toward Jane Seymour.
Episode 6: Master of Phantoms
UK Air Date: 25 February 2015, US Air Date: May 10, 2015
In 1536, King Henry VIII's request that Thomas Cromwell find a way to rid him of Anne Boleyn – a sentiment supported by others, who wish for Jane Seymour to take her place – leads to a series of allegations and revelations.
Trailer
Production
On 23 August 2012, BBC Two announced several new commissions, one of which was Wolf Hall. According to The Guardian £7 million was to be spent on the adaptation. BBC Two controller Janice Hadlow said it was "very fortunate to have the rights" to the two novels and called Wolf Hall "a great contemporary novel".
Peter Kosminsky, the director of the series, said:
This is a first for me. But it is an intensely political piece. It is about the politics of despotism, and how you function around an absolute ruler. I have a sense that Hilary Mantel wanted that immediacy. … When I saw Peter Straughan's script, only a first draft, I couldn't believe what I was reading. It was the best draft I had ever seen. He had managed to distil 1,000 pages of the novels into six hours, using prose so sensitively. He's a theatre writer by trade.
The drama series features 102 characters and Kosminsky began casting the other parts in October 2013. Although originally set to film in Belgium, most of the filming took place on location at some of the finest British medieval and Tudor houses and buildings: Berkeley Castle, Gloucester Cathedral and Horton Court in Gloucestershire, Penshurst Place in Kent, Broughton Castle and Chastleton House in Oxfordshire, Barrington Court, Cothay Manor and Montacute House in Somerset, St Donat's Castle in the Vale of Glamorgan, and Great Chalfield Manor and Lacock Abbey in Wiltshire. The series was filmed in May to July 2014. The series, which was made in association with Masterpiece Entertainment and Playground Entertainment, consists of six episodes and was broadcast on BBC Two in the UK from 21 January 2015.
The Guardian speculated that the BBC's hiring of Kosminsky with Straughan showed they wanted "a darker and grittier take on British history" than more fanciful programs like The Tudors or The White Queen. Mantel called Straughan's scripts a "miracle of elegant compression and I believe with such a strong team the original material can only be enhanced."
Kosminsky's decision to film many of the interior scenes by candlelight led to the actors bumping into things, and fearing they might catch fire.
Wolf Hall was filmed in two locations in Kent: Dover Castle doubled for the Tower of London, and the Long Gallery, Tapestry Room, and Queen Elizabeth Room in Penshurst Place were used as specific rooms in Whitehall (York Place), which was Anne Boleyn and Henry VIII's residence. The Long Gallery doubled as Anne Boleyn's chamber.
The series' executive producer, Colin Callender, stated in February 2015 that he hoped that the BBC would commission an extension of the series based on the final novel in Mantel's trilogy, The Mirror and the Light, which Mantel is currently writing. Callender said that lead performers Mark Rylance and Damian Lewis were "eager" to return.